NEW PLANNED BREEDING
July 2007
VC CH Osage Caesar (Brasch) MH
PennHIP rt .38 & lt .38 (90th percentile)
OFA #SI-609G29M-PI
CERF SPI-456
&
Elisa Rosemaria DiAringa (Lizzie)
OFA #SI-629E25F-PI
CERF SPI-451/2006-21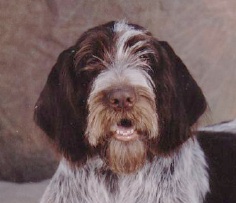 This litter will include both brown roan and orange roan puppies that should be excellent possibilities for field and show.
Dual registration: AKC and NAVHDA.
Proven hunting and show lines.
NEWS
2006 Versatile Champion
from Osage "C" litter: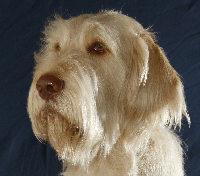 VC CH Osage Caesar (Brasch) MH

At 2.7 years, Brasch is the youngest Spinone to have earned Versatile Champion (VC) and Master Hunter (MH) titles, and one of only three ever to have become a VC, doing so with a maximum score of 200 points. Brasch was the 2006 recipient of the Spinone Club of America Rufus Cup award for "exceptional perfor-mance in the field and conformation ring."
NEW 2007 Kemo Cup Recipient
VC CH Osage Caesar (Brasch) MH
From the Spinone Club of America
(SCOA)
for excellence in the field.
NEW Master Hunter
Osage Bria (Luchi) MH
ABOUT US
Osage Kennel is owned and operated by Jeff and Sue Rhodes of Wooster, Ohio. We are dedicated to the promotion and preservation of Spinoni Italiani as fine versatile hunting dogs. We have won a NAVHDA Natural Ability Breeders award for every litter, and we have bred puppies that have excelled in the show ring and the field at the highest levels.
We breed according to the ethics and heatlh standards of the Spinone Club of America (SCOA).
Our puppies are whelped and raised in the middle of our home - very much underfoot and in the midst of our activities and daily life. Our Dams are provided the best of health care throughout their lives with special attention given prior to breeding, during pregnancy and following whelping. The puppies are carefully tended from the second they are born.