ABOUT US
Osage Kennel rearing methods involve frequent handling of the puppies and provision of a warm, safe & secure environment for them. We strongly believe in providing a stimulating environment for the puppies in order to help them develop both mentally and physically. This includes appropriate exposure to birds, cover, and water.
Our puppies receive a thorough health examination by our veterinarian before leaving our care to go to their new homes, and they receive their vaccinations directly from our veterinarian. The puppies are also micro-chipped before leaving our home.
Each new owner is provided with complete information on the care of the new puppy and we encourage frequent contact with us over the life of the puppy/dog. Our interest in and concern for each puppy does not end with the sale!
We encourage all buyers to join NAVHDA and to develop their dogs as hunting dogs. Jeff is a NAVHDA judge and president of the Buckeye Chapter of NAVHDA. Sue is the Chapter secretary, and in addition to hunting the dogs, works with them in AKC Obedience and Rally.
~ Jeff and Sue Rhodes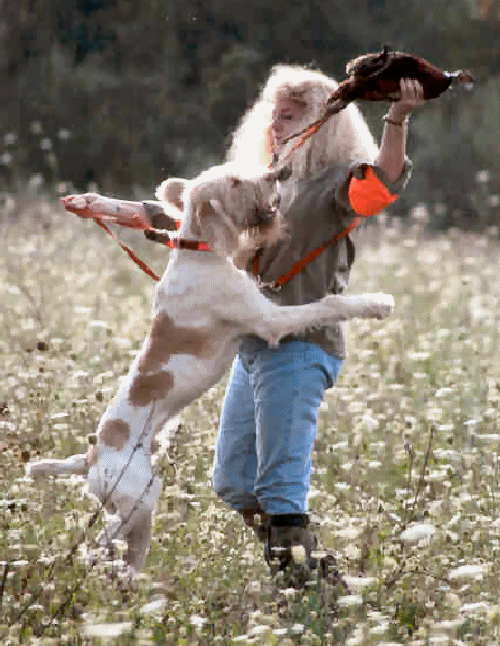 Sue with Argus ("A" Litter")